Cake pops, a la
Bakerella
, are all the rage... hell, Starbucks even has them now. So I thought I would try my hand at them for Goodie Day at work this week. The recipe is simple enough:
1 cake (Made from a box, baked, and cooled)
1 Can frosting
Chocolate or a candy coating like
CandiQuick
for the outside
Sticks
Decorations like colored sugar, etc.
The steps to assembling the cake balls are pretty easy to.
1. Crumble up the cooled cake.
2. Mix in the icing until the cake and icing are the consistence of cookie dough
3. Make little balls of the cake/icing mix with your hands. Or, if you are like me, with a cookie scoop.
4. Chill the balls
5. Insert the sticks
6. Coat in Chocolate or the CandiQuick
7. Decorate
I am going to call this a semi success. The first mistake I made was making the balls too big. I used the larger of my two cookie scoops, I should have used the smaller one. I also went wrong by putting the balls in the refrigerator. They kept falling off the sticks and falling apart as I was trying to coat them. Next time I will freeze them. I didn't buy enough of the coating. I have never actually used a "candy coating" before. I have always just melted chocolate, but I needed something that would harden pretty fast so I opted for the Vanilla CandiQuick. I didn't have enough to cover all the balls, only about half. I had to throw the other half away :(
Yes, I know I could have frozen them for use later, but there is no room in my freezer at the moment.
Here they are waiting to be eaten at work: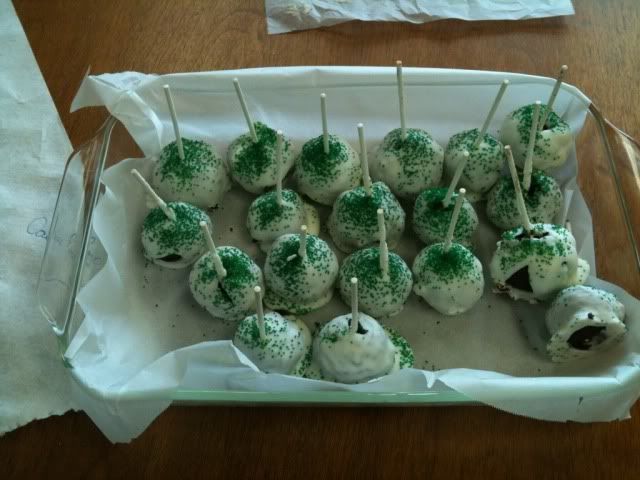 They were a semi success, because people are actually eating them. Will I be making them again? I don't think so. First of all, they were a lot of work and pretty messy. Second, I am not that thrilled with how they tasted. I would have been a lot happier if I had just made a regular cake with icing.